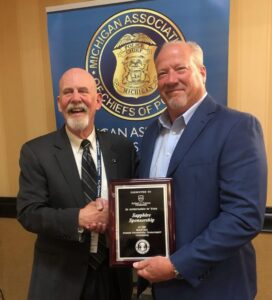 Pictured left, Chief Robert Stevenson (Ret.) is President of MACP.  Robert J Turner Foundation President Cory Williams (right) represents RJTF at the Michigan Association of Police Summer Professional Development conference and awards banquet.
During a high-speed vehicle pursuit, 39-year-old Kalamazoo County Sheriff's Office Sergeant Ryan Proxmire, was shot in the line of duty and succumbed to his injuries the following day on August 15, 2021.  In the fall of 2021, with support from donors like you, Robert J Turner Foundation donated $25,000 to Proxmire's family.  A portion of the US-131 highway, starting at West U Avenue and running through Mile Marker 35, is now named after Sergeant Ryan Proxmire. He is survived by his wife Roanna; children, Bowen, Anezka, Spencer and Elizabeth, and parents, Mark and Dawn Proxmire.
In June of 2022, faces wet with tears filled the room at the Michigan Association of Chiefs of Police presentation honoring fallen officer Sergeant Ryan Proxmire. Robert J. Turner Foundation President Cory Williams had the honor of speaking with Proxmire's wife, mother and father. With a heavy and humble heart, Cory Williams reports, "They were all so appreciative of what we did for their family.  I got to tell them how proud I was as a former detective of their son's courage and bravery doing his job as a police officer.  They all said he never wanted to do anything else."
Robert J Turner Foundation was recognized during the program and received much gratitude from police chiefs for supporting families of Michigan officers killed in the line of duty.  Together, we are truly making a lasting impact in the families of fallen officers.   Thank you for being a hero to the families of our fallen heroes.